Terrorism,terrorist,pakistan,hindu genocide,murder,pakistani terrorism,islamic atrocities,pakistani terrorists, isi, 9/11, 9-11, madrassah, madrassa,jihad
Anti-Terrorism Campaign

An attempt to unravel the dirty secrets behind terrorism



The decade long reign of terrorism has had millions of victims. Around 34,000 have died, many more injured, scores forced out of their homes and millions of citizens live in fear of their lives from the terrorist elements. The Pakistani terrorists have taken up an organized form of ethnic cleansing where non-muslims and moderate muslims are being forced to leave the land under fear of death or for the sake of their loved ones. Some of the more recent and touching images of the continuing war are included.

(NOTE: some images are graphic)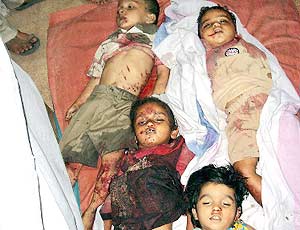 Graphic - These 4 babies were among 30 killed by Pakistani Islamic terrorists in their attack on a Hindu temple in Gandhinagar. As usual, the Pakistani terrorists only had the balls to kill unarmed kids and civilians, and were eventually exterminated by security personnel. This picture and others of the dead victims never made it on western (American) news reports or sites; most likely a ploy to surpress the backlash against its terrorist ally, Pakistan.


---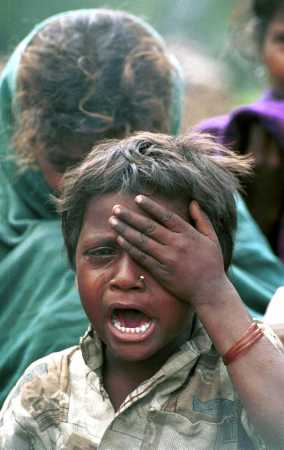 Poornima, daughter of a laborer, cries before the cremation of her father, who was among 19 Hindu laborers allegedly killed by Pakistan supported separatist groups in Katran Mirpur, 58 kilometers south of Srinagar, Indian Kashmir Wednesday, Aug. 2, 2000. At least 91 people have been killed and hundreds injured in widespread massacres across Jammu and Kashmir during the past 24 hours. (AP Photo/Aijaz Rahi)

Webmaster's Comment: Note the use of the word 'allegedly', for those that were killed and their loved ones this is a slap in the face. How much more evidence is needed? Such reporting shows the underlying political games being played at the expense of innocent people.
---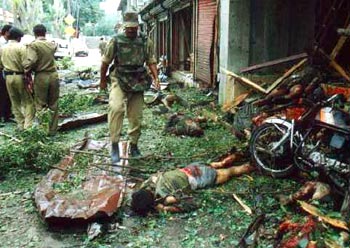 A soldier picks his way through the death and devastation caused by the bomb explosion in Srinagar on August 10. In the foreground is the body of Delhi-based journalist Pradeep Bhatia. Nine security force personnel were also killed in the attack. (Photo: Abdul Qayoom)



---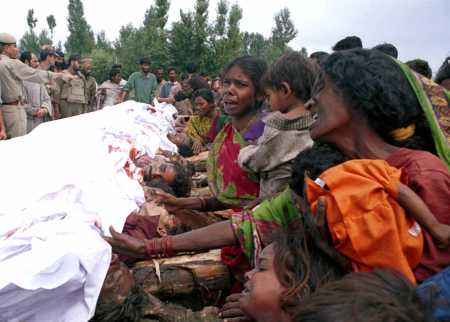 GRAPHIC CONTENT--Relatives cry over the bodies of nineteen Hindu laborers 'allegedly' killed by Pakistani-supported separatist groups in Katran Mirpur, Indian-occupied Kashmir, 58 kilometers (36 miles) south of Srinagar, Wednesday, Aug. 2, 2000. A wave of violence that began with an attack by suspected Islamic guerrillas left 91 people dead in less than 24 hours in Kashmir, the Himalayan province disputed by India and Pakistan, police and witnesses said Wednesday. (AP Photo/Aijaz Rahi)


---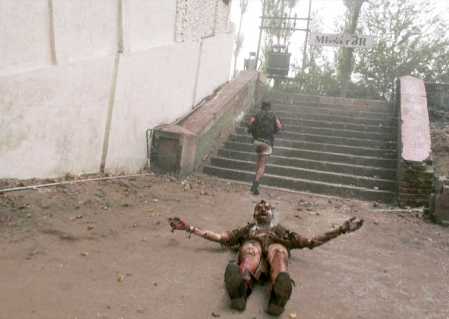 An unidentifed Indian police officer shouts for help as another officer runs for shelter after a bomb blast in Srinagar, India Thursday, Aug. 10, 2000. The guerrilla group that brought hopes of peace to Kashmir, the Hezb-ul Mujahedeen, Kashmir's main militant group, declared war again on Thursday with a powerful car explosion in the heart of the capital, killing at least 10 and wounding 20 others. (AP Photo/Rafiq Maqbool)


---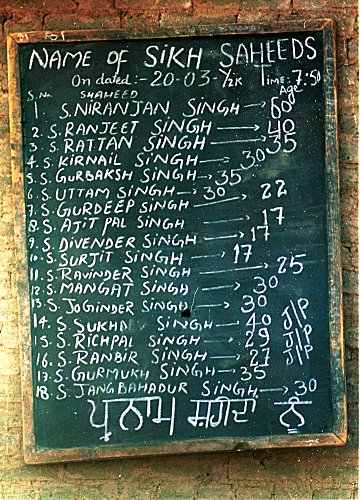 The roll call of the dead: These names in chalk are a grim reminder of the inhuman massacre that took place just five days ago in the remote village of ChithiSinghpora in Anantnag district of Jammu and Kashmir. (TOI photo/Harish Tyagi)




---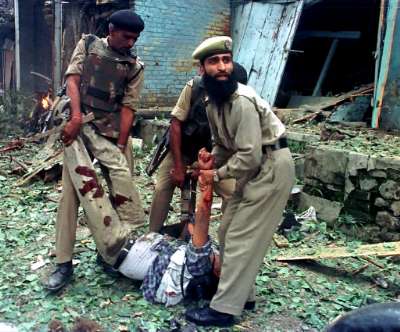 Indian police carry the body of an unidentified person killed in a car bomb in Srinagar, the summer capital of Jammu and Kashmir in India August 10, 2000. A powerful car bomb exploded in the Kashmiri city of Srinagar on Thursday, killing nine people and wounding 25, including journalists, police said. It was the first major attack since the frontline Kashmiri militant group Hizbul Mujahideen ended a 15-day ceasefire in the rebellion-racked Indian state of Jammu and Kashmir on Tuesday. REUTERS/Fayaz Kabli (Reuters)


---

These are unfortunately just just a couple of examples, with tens of thousands of innocent victims of Pakistani terrorism. These actions clearly meet even the US definition of terrorism - "Terrorism is the unlawful use of force and violence against persons or property to intimidate or coerce a government, the civilian population, or any segment thereof, in furtherance of political or social objectives." - yet Pakistan is allowed to continue with its sinister criminal agenda.


4282